There is a cafe "Shunpu-an" in the Shunpu Bari-sou.
Would you like to have a cup of coffee, tea, or green tea, viewing the seasonal flowers in the calm atmosphere surrounded by the vast nature, and turning your thought to KITAOJI Rosanjin?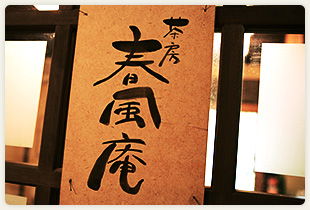 ■Menu
green tea
(with Japanese dry sweets)
¥550
coffee
¥480
black tea
¥400
orange juice
¥400
ice coffee
(only during the summer)
¥520
an-mitsu
(Japanese dessert)
¥550
※ We serve a cup of green tea to our guests at the external corridor looks out into the stone garden.